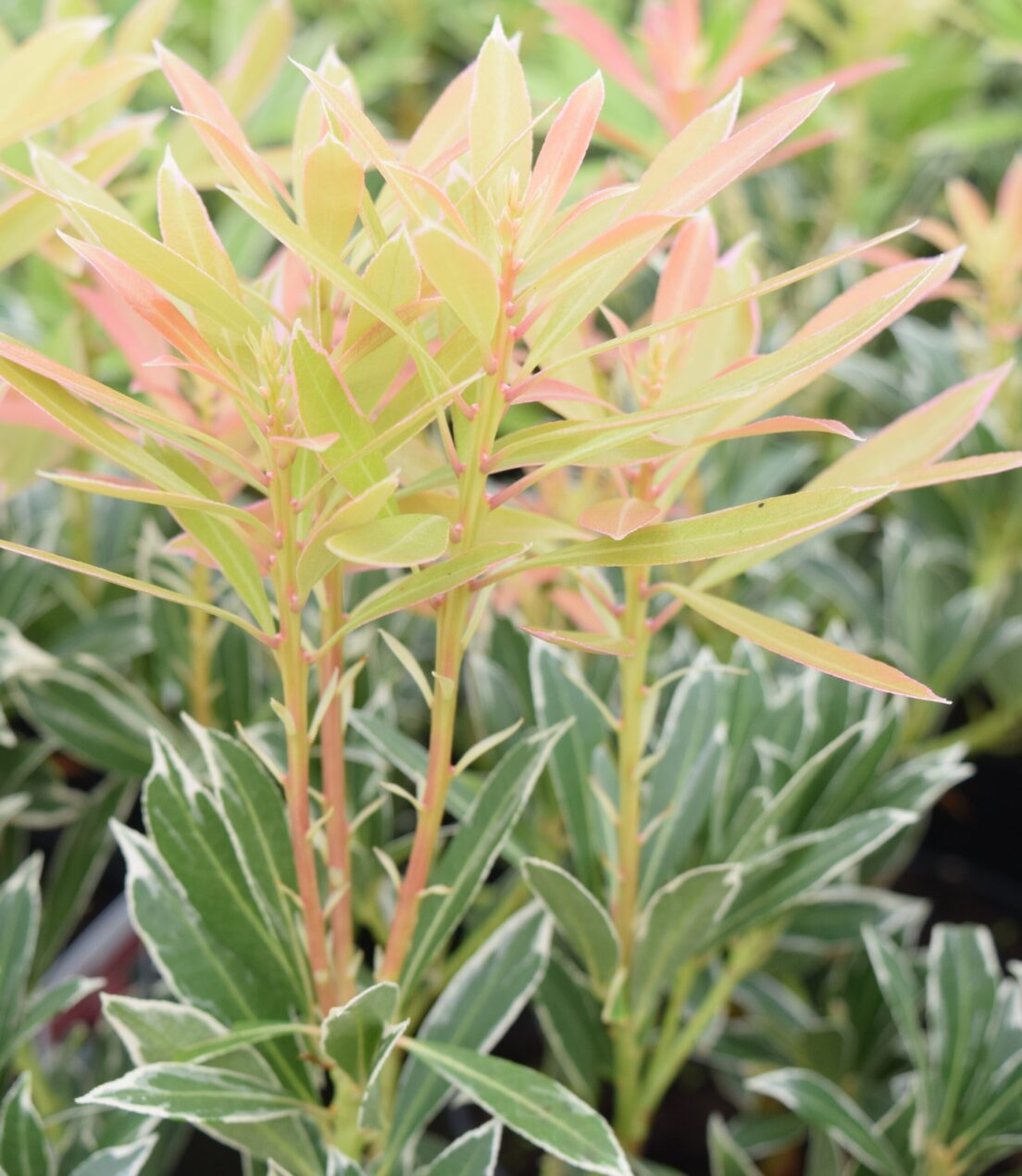 Pieris japonica 'Flaming Silver'
Evergreen foliage gives structure and excellent foil for summer flowering shrubs and perennials. The young bright red foliage becomes green, boldly margined with silvery white as the season progresses. Clusters of white-pink flowers are born in early spring giving much needed food for beneficial insects.
The variegation of the leaves results in a slow growing shrub which makes it ideal for the smaller garden. Fully hardy in most of the UK but avoid planting in areas of frost pockets to prevent damage to the new growth in spring.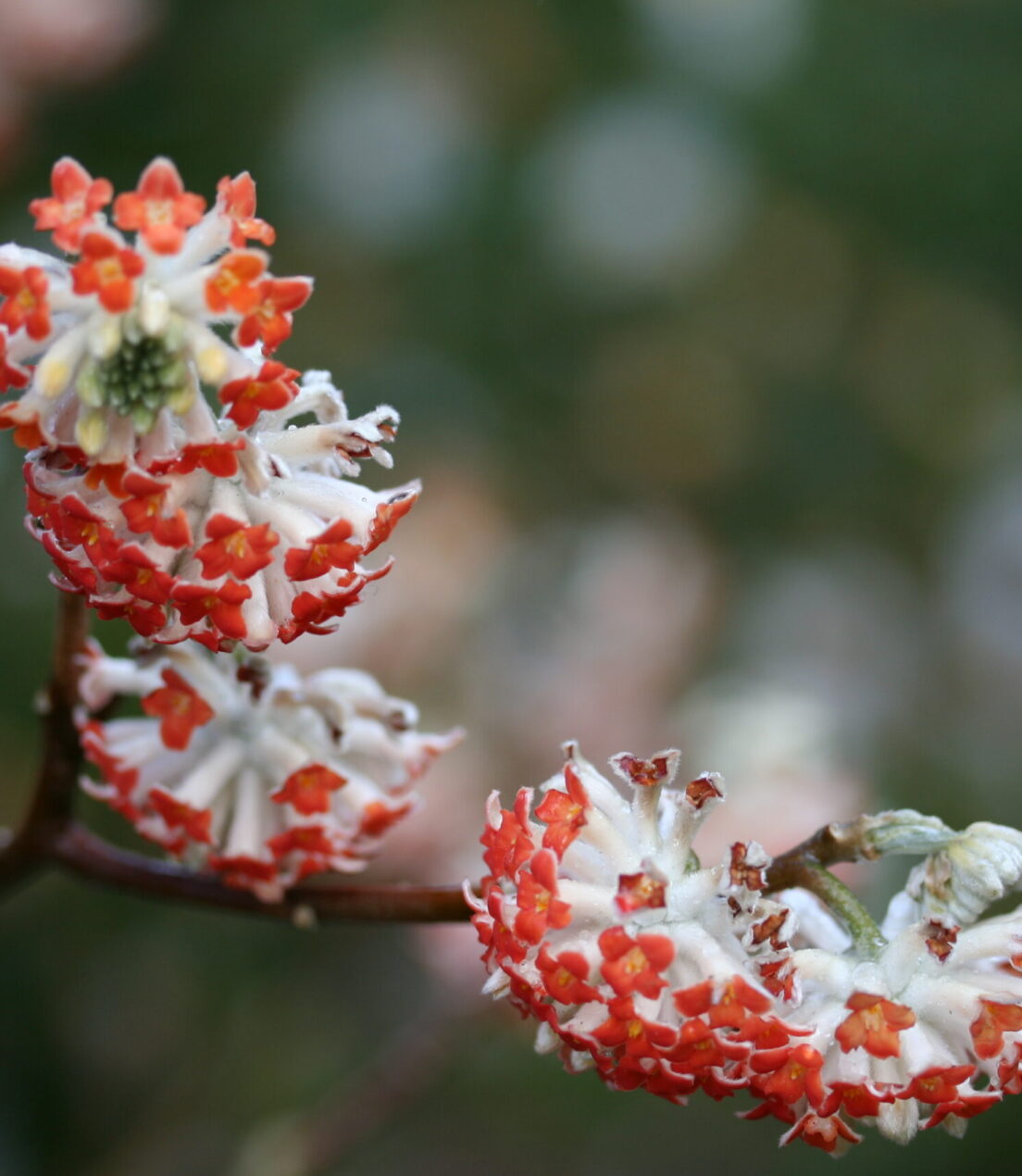 Edgeworthia chrysantha 'Red Dragon'
'Red Dragon' is one of the most underrated plants for its winter flowers and scent. Clusters of highly fragrant yellow/white flowers open late winter to early spring. Its leaves, similar to Euphorbia mellifer, inject an exotic look to a garden.
Young stems are so flexible it is possible to tie them in a knot. Originating from China, this slow growing and easy to maintain plant can withstand temperatures down to -10. Cinnamon papery bark, used in Japan to create bank notes, gives the common name of paper bush.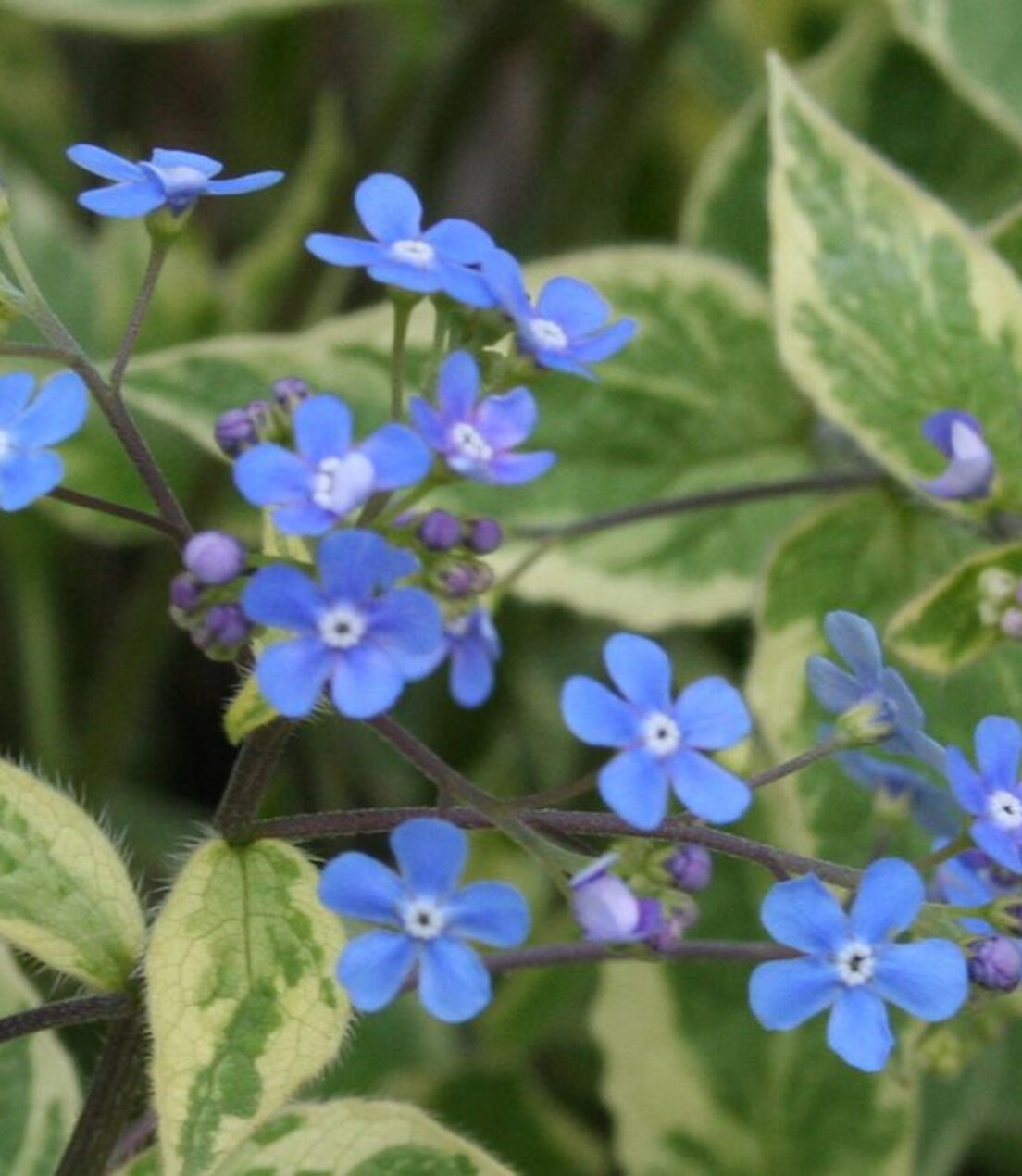 Brunnera macrophylla 'Hadspen Cream'
'Hadspen Cream' has sophisticated creamy and variegated leaves that can bring light into a shady border.
This spring flowering perennial is an excellent ground cover for dry shade, working well alongside ferns, hostas and Geranium phaeum.
Trim after flowering to keep leaves looking fresh for the rest of the season.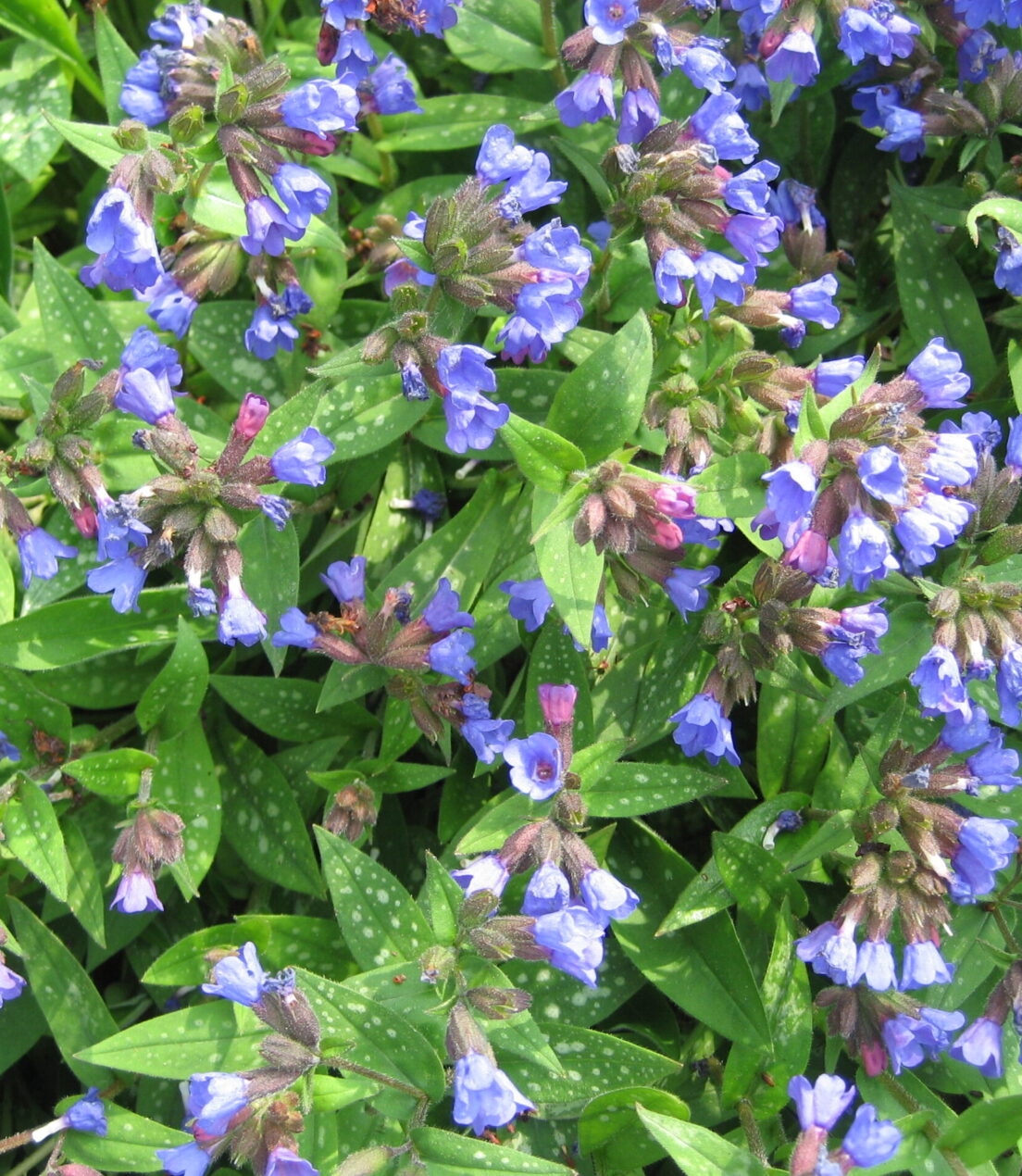 Pulmonaria 'Blue Ensign'
Perfect for shady or semi-shady borders, this low-growing clump-forming perennial flowers in early spring in sapphire blue.
This low-maintenance plant can be massed as a non-invasive ground cover. The unspotted, dark green foliage remains attractive throughout the entire season if cut back after flowering. This plant has RHS AGM and is fully hardy in the British Isles.
Plant alongside Hellebore, ferns, and emerging spring bulbs for best results.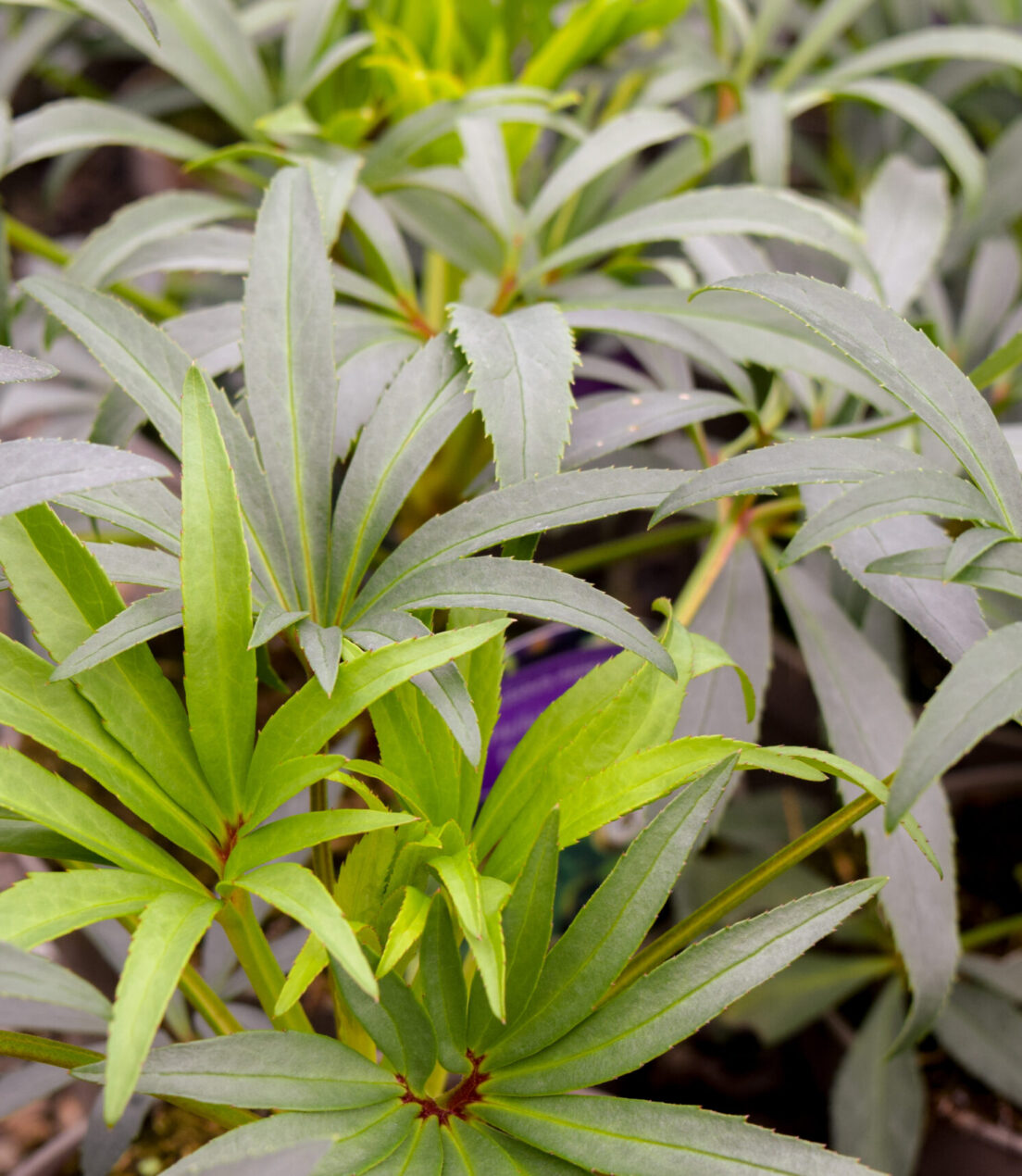 Helleborus foetidus
Our native hellebore is perfect for a natural spring border in gardens with non-acidic soils.
As a small evergreen perennial, with dark green lower leaves and lime green flowers, it provides a perfect foil for early flowering spring bulbs.
The flowers, which look good from December to April, also provide an early food source for bees.
Well suited to dry and lightly shaded conditions.
Amelanchier lamarckii
Suitable for both urban and wild gardens, Amelanchier lamarckii is a versatile tree with a softly arching, sometimes spreading habit.
Its ever-changing appearance creates an exciting focal point that transitions throughout the seasons, featuring striking snow-white flowers that develop into berries and colour changing leaves.